Arrgh, me hearty! Gimme your booty!
So cI am managing a full blown diaper addict. I was doing well, but fell off the wagon upon seeing
Scuttlebutts
. I stalked for a while until a custom spot came up and leapt on it. I decided to go all in and get four. The main reason I did it was because she has a fantasic array of fabrics and I simply could not pick one. It was impossible. I went with OCV on the inside but she as OBV, too. I think she has hemp but I'm not the biggest hemp fan. I am glad I got four. Best. Choice. Ever.
Here are my dipes. I obviously didn't take this pic with my crappy little camera phone. This is the pic that Jen sent me right before she mailed them.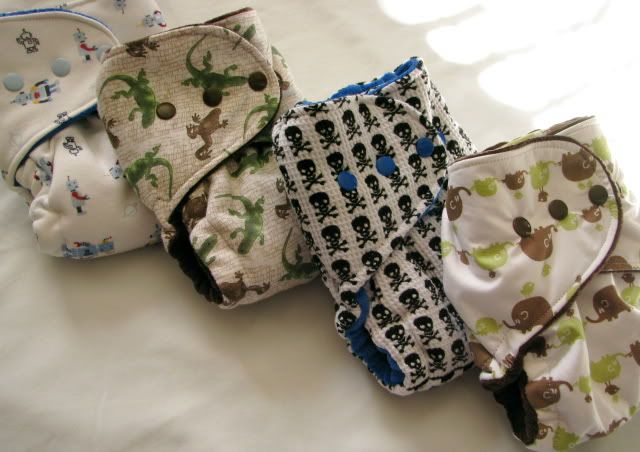 Jen made this beautiful fluff by hand. They are so professional. She obviously plays close attention to detail. Check out the little applique. Isn't it cute? And it keeps them with the right diapers. Genius!
I ordered some BabyLegs (cause I am fluffy like that) to go along with them.
I am a stickler for customer service and Jen communicates frequently. I love that. It was a joy giving her all my money and I look forward to buying more if I can catch a custom Spot!